From the monthly archives: October 2013
NHK, Japan's national public broadcasting organization, has more than fifty free educational TV programs available through their "NHK for School" site. Each program also has a summary available for it, and many have extra clips or supplementary materials as well. This is an amazing resource for language learners, and I decided to translate the main menu so that Japanese learners can more easily find programs they're interested in for whatever level they're comfortable with!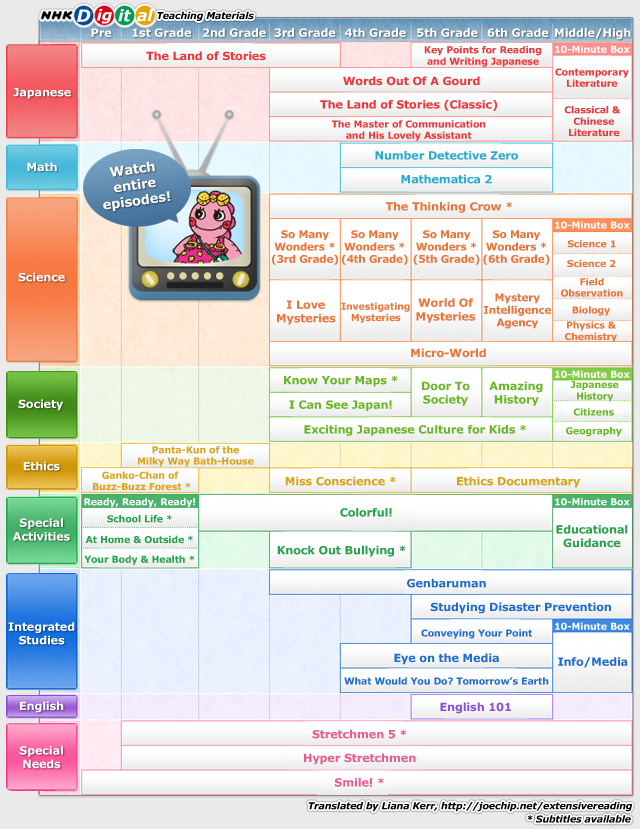 The main program pages all follow about the same format, so they're easy to navigate.
You can switch episodes by looking at the very top of the page for the words 2013年度 and ほうそう回. Clicking the first will allow you to select different years (if available), and the second will allow you to select a different episode.
There's a little intro graphic underneath the top menu with links to things like what the program is about, who the characters are and so on.
The video and the outline are available under the heading ばんぐみ. Clicking on the image, or the word どうが, will take you to the video, while あらすじ is the outline.
To the right of the video are clips, supplementary materials and materials for teachers.
All of the translations are my own; if there's any official translations for any of these program names I never found them. Some are more literal than others. I've used an asterisk to show which ones have subtitles (which can be turned off, as well)
With more than 50 programs, even I haven't watched an episode from each one, but so far I really like the "So Many Wonders" series (ふしぎがいっぱい), "Amazing History" (歴史にドキリ), "Smile" (スマイル), "I Can See Japan" (見えるぞ!ニッポン) and "The Master of Communication and His Lovely Assistant" (お伝と伝じろう; probably the translation I took the most liberty with!) If you find any you particularly like, write a comment about it!
Thanks to my friend Tsubasa for help with some of the title translations, and to Image Maps for the imagemap function!
Superfluous Stats

Books read: 303
Word count (since starting the blog): 380,500